Yaadha Gaayli-gal-gu Mari-gu (Aboriginal and Torres Strait Islander Children's Day)
The date 4 August was historically used to communally celebrate the birthdays of Aboriginal and Torres Strait Islander children who were taken from their families at a young age, without knowing their birthday – the Stolen Generations.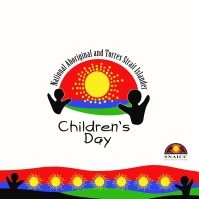 For details and activities, see https://www.aboriginalchildrensday.com.au/
2023
The theme is 'Little Voices, Strong Futures'. There are no easy ways to translate the nouns 'voices', and 'futures', so John has suggested a more traditional way using the verbs 'speak' and 'go forward':
Baluwaa Guwaa-lda-nha [softly speak-continuous-now]
Warranggal Yana-waa-nha
[strongly Go forward-moving-now]
This means 'Softly Speaking, Strongly Going forward'.
Download a pdf version of our poster here: Childrens-Day_GR_-2023.pdf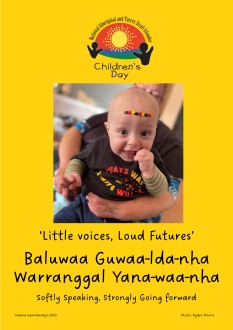 2022
The 2022 theme is 'My Dreaming, My Future'. Our translation uses burruguu, the YR word for "time of creation, dreamtime," and the YR and GR word ngurrugu for "tomorrow" (from ngurru, "night"): Burruguu ngay, ngurrugu ngay.

This has been added to the official SNAICC poster for us: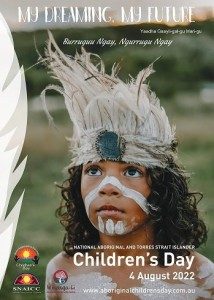 Download a pdf copy of the poster here: SNAICC-Childrens-Day-poster-2022-Winanga-Li.pdf
What does burruguu mean to me?
We have adapted the Burruguu (Dreaming) activity: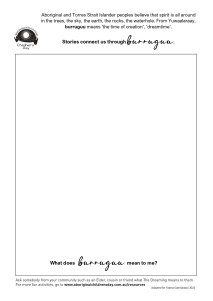 Download a pdf here: Children's-Day_Burruguu.pdf
2021
Dhuwi - "person sprit"
Gayaa - "proud"
Warranggal - "strong, powerful"
Dhuwi Gayaa, Warranggal