Garay (letters, words, literacy)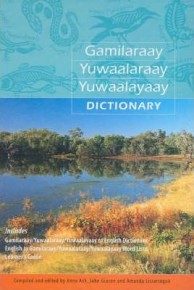 The dictionary is the best resource for words and associated cultural knowledge:
A free pdf file of the Gamilaraay, Yuwaalaraay and Yuwaalaraay Dictionary (2003) can be downloaded here..
You can purchase a hard copy of the dictionary from Five Senses Education.

There are are two free resources with sound:
Gaman Guladha Gamilaraay, Yuwaalaraay, Yuwaalayaay is an online version of the dictionary here.
Gadjigadji is an app with sound based on the dictionary, available from the usual app stores in Android and iphones versions.
Yayaa (alphabet)
{???}
Garay Gibu-gu (Words of the Week)
Commands
Using the dictionary